About
Me
Here's some info about me and where I've worked.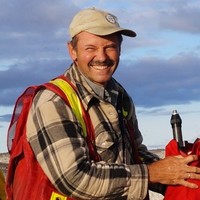 BIO
Dr. Fedorowich is a professional structural geologist with over 26 years of experience in structural characterization and modelling at operating underground and open pit mines. His areas of specialization are kinematic and dynamic analysis of structures and patterns, target generation, structure and ore resource 3D modeling, and geophysical and remote sensing methods as applied to detecting mineralization and structures. He has designed and executed projects in a wide variety of international settings. These have incorporated DGPS structural mapping, lineament analysis, descriptive core logging, and ATV OPTV televiewer logging to understand and model the geometry and patterns of faults folds veins and fractures. He is a Registered Professional Geologist in Ontario, Canada.
Itasca Consulting Canada Inc.
Principal Structural Geologist
2008-2014
Implemented many structural modeling and mapping consulting projects for various large international mining companies. Carried out 3D modeling in Datamine and numerical modeling in 3DEC and UDEC. Authored numerous quality technical reports and reviewed information pertinent to stability analysis geotechnical characterization and target generation.
FNX Mining Company Ltd.
Chief Mine Geologist/Senior Structural Geologist
2002-2008
Responsible for all aspects of mine geology from shaft sinking, to ore resource definition, to production at Podolsky Mine, a Cu-Ni-PGE underground operation. Completed structural and lithological mapping, target generation, Datamine modelling, drill proposals, and drill program supervision.
Falconbridge Ltd.
Senior Structural Geologist
1994-2002
Worked on underground structural mapping, core logging, and modelling at 5 different mines and several exploration properties to determine the controls on Ni-Cu-PGE mineralization. Strong collaboration with Geotechnical Departments on various projects specific to ground control.